NEWS
ANNIKA – with Nicola Walker, has been recommissioned. Season two now in post production. About to embark on a four part drama called The Hoard with Dan Sefton's company, Seven Seas, a slowburn thriller starring Neil Morrissey.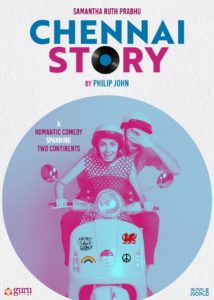 CHENNAI STORY – 'Downton Abbey' director Philip John boards Toronto Financing Forum Project, 'Arrangements of Love.' (Variety EXCLUSIVE). Philip is co-writer and director of what will be his second movie. 'A rollicking novel about family, home and the intricacies of ordinary human relationships,' by Timeri N. Murari. Nimmi Harasgama is co-writer. Produced by Sunitha Tati for Guru Films. Chennai Story goes into production July 2023.
THE LONG WAY – Penned by Canadian writer Michael Amo, this is a Rock 'n Roll Rom Com, the story of singer songwriter Ginny, who, after eighteen years spent bringing up her daughter, and earning a crust by driving a cab, comes across a new singing protege, Robbie. She sets out to cure his stage fright, and restart her career, meeting a host of eccentric and predatory characters along the way.
LET THERE BE ROCK – a bittersweet comedy set in the South Wales Valleys.  Old and young generations of men come together to save a local choir. Written by Irvine Welsh and Dean Cavanagh. Produced by Marty Bowen of Temple Hill Entertainment and Paul Brooks of Gold Circle. Starring Anthony Hopkins.
FILM CLUB (pilot) –  Episode one – Citizen Kane. A scabrous comedy penned by long time collaborator, Dean Cavanagh. A group of celebrities, playing themselves, meet to discuss a classic film. Starring David Threlfall, Shauna Macdonald, Bonnie Prince Bob, Sayani Gupta, Roger Evans and Sophie Melville.  Produced by Orange River and Tilt Content. Soon to debut online, details to follow.. 
FILM DEVELOPMENT SLATE
JIM GOES FRISCO – a road movie and wry love story. Question. What do you do when you hit fifty, and your ex-wife, whom you still  adore, won't come on a belated honeymoon to California? Answer. You go alone, take a camcorder and change the course of your life along the way. Written by Philip John. 
MY HOMEMADE KITE – tells of the turbulent love story between two Sri Lankan women. Indra is a victim of torture, and Pradeepa is an anti-government activist. It's set against the backdrop of the brutality and horror of the Sri Lankan civil war. Written by Nimmi Harasgama and Philip John.
LIVE FROM HEAVEN – a dark jewel of a film. Repair man Jim receives instruction from the spirit of Thomas Edison to make a television screen which shows the afterlife. The revelation soon spreads throughout the townsfolk, leading them to view life very differently. Written by Chips Hardy.
HERE BE MONSTERS – a brutal slow burn revenge thriller telling the story of an intense young man trying to live his life in the shadow of his abusers. Written by Dean Cavanagh.
TELEVISION DEVELOPMENT SLATE 
LAST TRAIN TO LLANELLI – darkly comic Film Noir TV series from the trilogy of novels by Robert Lewis. Adapted by Philip John and Hass Amini. Producers Hass and Hossein Amini, with development support from Film Agency Wales.
UNCLE SAM'S FUNHOUSE – written by Dean Cavanagh and Irvine Welsh, Funhouse is a multi layered  ensemble story of forty-something characters who KNOW they were child stars in a 1980's children TV series, The problem is that no trace of the show exists, and we follow our characters as they try to uncover what did actually happen to them.
WALTZING MATILDA – an epic romantic drama set during the Australian sheep shearers strike of the 1890s, telling the story of the birth of the Labor Movement and of the folk tune that became a Socialist anthem. Written by Max Mannix and Franc Roddam. Executive producer, Franc Roddam and Grant Bradley. Produced by Gina Boon.